If you cannot regulate your hormones -- from digestive ones to those that control your mood, menstruation, metabolism, and even your perceived level of stress -- then you cannot regulate your energy. As women, we worry so much about the illnesses related to hormonal imbalances rather than considering what could be influencing the hormones to begin with. Remember, hormones are our body's main couriers. They send messages back and forth, so everything about energy is wrapped around hormones. Like pain, when hormones are off, it's relatively easy to go into a "crazy mode" (i.e., I feel like I'm having an out-of-body experience!); or a sad and frustrated mode (i.e., I feel like I am doing everything right but not getting results!).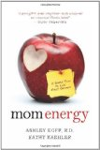 More About this Book
Mom Energy: A Simple Plan to Live Fully Charged
       From celebrated dietitian Ashley Koff and fitness trainer to the stars Kathy Kaehler comes Mom Energy, an exciting new way for moms to tap into their own natural and renewable sources of...
Continue Learning about Endocrine System