There's evidence to show that ingredients in some foods can disrupt your metabolism and your hormonal system, which impacts how well your body processes and burns energy. A class of natural and synthetic chemicals known as endocrine disrupting chemicals (EDCs), also gaining the name "obesogens," can act in a variety of ways to make and keep you fat: by mimicking human hormones such as estrogen, by misprogramming stem cells to become fat cells, and, researchers think, by altering the function of genes. They enter our bodies through a variety of ways: from natural hormones found in soy products, from hormones administered to animals, from plastics in some food and beverage packaging, from ingredients added to processed foods, and from pesticides sprayed on produce. The lesson: when you eat minimally processed natural foods, you help stoke your body's metabolism so you can burn more fat.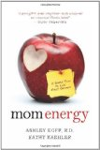 More About this Book
Mom Energy: A Simple Plan to Live Fully Charged
       From celebrated dietitian Ashley Koff and fitness trainer to the stars Kathy Kaehler comes Mom Energy, an exciting new way for moms to tap into their own natural and renewable sources of...
Continue Learning about Endocrine System
Your endocrine system works with your nervous system to control important bodily functions. The endocrine systems responsibilities include regulating growth, sexual development and function, metabolism and mood. The endocrine syst...
em also helps give your body the energy it needs to function properly. Endocrine glands secrete hormones into the bloodstream. Hormones are considered chemical messengers, coordinating your body by transferring information from one set of cells to another. Your endocrine system health can be affected by hormone imbalances resulting from impaired glands. A hormone imbalance can cause problems with bodily growth, sexual development, metabolism and other bodily functions. Endocrine system diseases or conditions include diabetes, growth disorders and osteoporosis.
More