With the many hormonal changes associated with the menopausal transition, you might imagine that measuring hormone levels could help predict when you will have your last period. This is not possible, but some companies that stand to profit from testing would like you to believe that it is.
Some over-the-counter test kits have been manufactured to measure levels of follicle stimulating hormone (FSH) in urine, but their results are unlikely to be very helpful in predicting when menopause will occur. Some laboratories will measure FSH levels in saliva, but there are no data to suggest that these levels predict when the final menstrual period will occur. Increasing FSH levels are a useful indicator that menopause is approaching, but they are not sufficiently specific by themselves to predict that menopause will occur at a certain time in the future. In addition, no specific level of FSH clearly distinguishes women approaching menopause within a specified time period from those not approaching menopause.
Measurements of FSH along with a physical exam and full medical history can be useful to women who are seeking help for infertility. They can help establish whether they have begun the menopausal transition. Since FSH levels change very quickly over the menstrual cycle, it is important to know when in the menstrual cycle a sample is obtained and to obtain a series of blood samples over a period of days or weeks to get a profile of the hormone levels over time. A single random value could represent a woman's lowest or highest level, and there is no way to be sure whether on any particular day the hormone level is low, high, or intermediate for any one woman.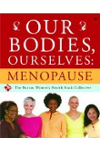 More About this Book
Our Bodies, Ourselves: Menopause
FROM THE EDITORS OF THE CLASSIC "BIBLE OF WOMEN'S HEALTH," A TRUSTWORTHY, UP-TO-DATE GUIDE TO HELP EVERY WOMAN NAVIGATE THE MENOPAUSE TRANSITION For decades, millions of women have relied on Our...
Continue Learning about Endocrine System