Until recently there was little information about ethnic differences in women's experiences of the menopausal transition and beyond. However, investigators for the Study of Women Across the Nation (SWAN), a study of multiple ethnic groups of women from across the United States, reporting on hormonal changes during the menopause transition, examined whether women from different ethnic groups had different levels of hormones.
The SWAN study is following more than 2,000 women, from ages forty to fifty-five, over an eight-year period as they go through the menopause transition. The women are African-American, Chinese-American, Japanese-American, Hispanic-American, and Caucasian and live in various states across the country. The SWAN study is large enough to help us compare the experiences of women from different ethnic groups and take into account factors such as age and body size.
A comparison of hormone levels of women from different ethnic groups threw up many differences. However, when an indicator of weight for one's height (body mass index) was considered, most of the ethnic differences disappeared. Heavier women have higher levels of the hormones FSH, SHBG, estradiol, testosterone, and DHEAS. When body mass was taken into account, estradiol levels were the same across the ethnic groups.
However, some ethnic differences can be seen even when body mass is taken into account. FSH levels are higher and testosterone levels are lower in African-American and Hispanic women than in Japanese- American, Chinese-American, and Caucasian women. The effects of higher FSH and lower testosterone levels are currently unknown, but the SWAN study investigators will be looking at whether these differences in hormones have any effect on health, for example, heart disease or bone health.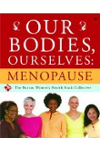 More About this Book
Our Bodies, Ourselves: Menopause
FROM THE EDITORS OF THE CLASSIC "BIBLE OF WOMEN'S HEALTH," A TRUSTWORTHY, UP-TO-DATE GUIDE TO HELP EVERY WOMAN NAVIGATE THE MENOPAUSE TRANSITION For decades, millions of women have relied on Our...
Continue Learning about Endocrine System
Your endocrine system works with your nervous system to control important bodily functions. The endocrine systems responsibilities include regulating growth, sexual development and function, metabolism and mood. The endocrine syst...
em also helps give your body the energy it needs to function properly. Endocrine glands secrete hormones into the bloodstream. Hormones are considered chemical messengers, coordinating your body by transferring information from one set of cells to another. Your endocrine system health can be affected by hormone imbalances resulting from impaired glands. A hormone imbalance can cause problems with bodily growth, sexual development, metabolism and other bodily functions. Endocrine system diseases or conditions include diabetes, growth disorders and osteoporosis.
More