There are a number of different kinds of hormone treatment, as well as varied doses and ways of taking drugs, and these are sold under different brand names. Most women who use hormone treatment take either an estrogen-only type or a combination of estrogen plus progestogen. Some women use testosterone. Estrogen-only therapies, which are sometimes referred to as unopposed estrogen, are specifically for women who have had a hysterectomy (or removal of the uterus). Women who have a uterus should not take estrogen-only treatment, because estrogen increases the risk of endometrial cancer. A woman with a uterus who decides to take hormone treatment should make sure that she is taking an estrogen-progestogen combination. This will reduce her risk of getting endometrial cancer, which is caused by the estrogen part of the treatment.
Premarin is an estrogen-only product, but the same company also makes a combination product called Prempro, which contains both estrogen and progestin. These are the drugs that were tested, at a specific dose, in the Women's Health Initiative (WHI). Premarin and Prempro contain a specific kind of estrogen—conjugated equine estrogen—which is made by extracting estrogen from the urine of a pregnant horse (pregnant mare's urine, hence the name).
Other hormone treatment products contain different kinds of estrogen and progestogens, including estrogens extracted from plants and natural progesterone derived from wild yams. Women who are concerned about the commercial use or mistreatment of animals sometimes prefer a product that comes from plants. There is, however, no evidence that one kind of estrogen or progestogen is safer or more effective than another.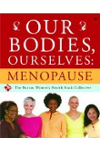 More About this Book
Our Bodies, Ourselves: Menopause
FROM THE EDITORS OF THE CLASSIC "BIBLE OF WOMEN'S HEALTH," A TRUSTWORTHY, UP-TO-DATE GUIDE TO HELP EVERY WOMAN NAVIGATE THE MENOPAUSE TRANSITION For decades, millions of women have relied on Our...
Continue Learning about Endocrine System
Your endocrine system works with your nervous system to control important bodily functions. The endocrine systems responsibilities include regulating growth, sexual development and function, metabolism and mood. The endocrine syst...
em also helps give your body the energy it needs to function properly. Endocrine glands secrete hormones into the bloodstream. Hormones are considered chemical messengers, coordinating your body by transferring information from one set of cells to another. Your endocrine system health can be affected by hormone imbalances resulting from impaired glands. A hormone imbalance can cause problems with bodily growth, sexual development, metabolism and other bodily functions. Endocrine system diseases or conditions include diabetes, growth disorders and osteoporosis.
More