Another hot topic today is the role of testosterone and growth hormone supplementation for age-related muscle decline. Both of these hormones are naturally occurring in the body and decline with age. Studies are ongoing as to the short- and long-term effects of taking these drugs. It appears that supplementation can increase low levels of both testosterone and growth hormone but will not increase levels above normal. Even this increase back to normal levels, however, seems to increase muscle mass but does not necessarily increase strength or overall function.
Two large studies in the United States and the Netherlands found similar declines of muscle strength and performance in men with high and low testosterone levels. In addition, studies show that the effects of supplemental testosterone on muscle strength and function are inconsistent and may not outweigh the possible risks of testosterone treatment, such as cardio vascular disease, prostate cancer, and increased blood thickness. Most researchers currently conclude that much more research is necessary before widespread prescription of testosterone or growth hormone supplementation can be instituted.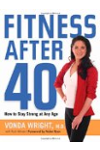 More About this Book
Fitness After 40: How to Stay Strong at Any Age
It's one of the undeniable facts of life. After we reach a certain age, our bodies change. No matter how fit we may have been at 20, we're very different people after 40. But growing older doesn't...
Continue Learning about Endocrine-Metabolic Agent