Enameloplasty is a relatively quick and painless procedure that is done in a short office visit, usually with no recovery time needed.
Continue Learning about Enameloplasty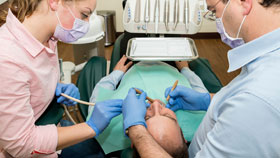 Enameloplasty, also known as tooth recontouring, stripping or slenderizing, is a procedure in which small amounts of tooth enamel are removed to change a tooth's appearance by modifying length, shape or surface. Most people choose ...
to have an enameloplasty if they have chips in a tooth, slightly irregular tooth shapes or over-long canines.
More