Since enameloplasty, or recontouring, does not affect the pulp of the tooth, there shouldn't be pain. Even during the procedure an anesthetic for pain control is not usually needed.
Continue Learning about Enameloplasty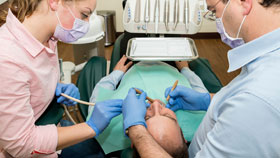 Enameloplasty, also known as tooth recontouring, stripping or slenderizing, is a procedure in which small amounts of tooth enamel are removed to change a tooth's appearance by modifying length, shape or surface. Most people choose ...
to have an enameloplasty if they have chips in a tooth, slightly irregular tooth shapes or over-long canines.
More