Social emotions emerge from your emotion mind/brain system and are usually more complex than the somewhat linear expressions of primary emotion, such as fear or anger. The integration of primary emotions into social emotions, such as confidence, trust, loyalty, jealousy, and shame, is a multifaceted process. Given its intriguing complexities, interest in the impact of emotion is on the upswing.

A pioneer in the study of social emotions is Northeastern University's Dr. David DeSteno. He stresses that our complex social emotions are a byproduct of forces of which we may not be consciously aware. On his website he writes, "In Out of Character [the book], we attempt to turn the prevailing wisdom upside down by showing that character, nobility, and goodness are all shaped to a high degree by forces outside of our awareness."

Whether or not you agree with Dr. DeSteno, what is important for you to see is how profoundly emotion impacts your decision making and health. The point is that emotions play a role in both how and why you are healthy or symptomatic.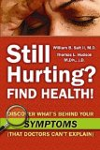 Continue Learning about Emotional Intelligence