Take a moment to think back to those people you knew who were joyful, even if simply for short periods. What was it about them and their teachings that left you feeling happy and excited?
Now think back to those who taught you things that left you feeling bad, either about yourself, your life, or about others. Amazingly, we can learn from both. Those things that left us feeling good gave us leads to rediscover our joy and the innocent laughter and smiles we felt as a child. Those things that felt bad can also be great teachers. They help us learn who we are not or would choose not to be. And we do have a choice. God, The Universe, Nature (or whichever of the myriad names we use) has lovingly given us full freedom to express and be whoever and whatever we choose. Do you choose to be a joyful uplifter or a morbid person who holds yourself and others down? Either way is okay. Many new spiritual teachings suggest that there are no hard and fast rules. Looking at life from a broader perspective also suggests that there is no absolute "right and wrong"—simply different perspectives. Total freedom is our true nature.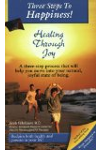 More About this Book
Three Steps to Happiness! Healing Through Joy
Happiness is our natural state of being. It is who we are. This happiness is obvious when you look at little children before they take on society's beliefs. Their natural state is to feel all of...
Continue Learning about Emotional Intelligence