One thing that is sure to get us to do some deep reflection is an emotional breakdown. For example, if your life is going along smoothly, you probably won't spend time thinking about its meaning. But when something stops working, then you're much more likely to think deeply about life; when we identify a problem, we begin to reflect on what caused the problem and how to fix it. So, if you are disconnected from your deepest feelings and impulses, you may still manage to get through life without realizing it -- if nothing goes wrong, that is.
One of the defining features of depression is that it results in impairment in social and professional functioning. You may feel blue and begin to lose interest in some aspects of your life, but this will not be diagnosed as depression unless it begins to impair your day-to-day functioning. It is this aspect of depression -- which is by definition an impairment -- that seems the most difficult to reconcile with the idea that depression is a gift.
But if you begin to accept the possibility that there was something fundamentally wrong with your level of functioning before your depression, the idea of depression as a gift begins to make sense. A breakdown can become a gift when it leads to increasing reflection on your life, which will in turn lead you to ask these fundamentally important questions:
What is wrong with my life?
What can I do to correct the problem?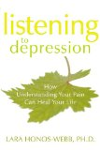 Continue Learning about Emotional Health
How well you handle stress, anger, relationships, work, family life-it all factors into your emotional health. Finding balance in life-as well as peace of mind-helps us cope with life's ups and downs. Take time to explore new ways ...
to find stress relief, and to release anxiety, and unhappiness. Counseling can help-as can a gratitude journal.
More