It is important to recognize that there is no such thing as a bad or evil feeling. Feelings are simply feelings, and all your feelings are totally valid. It is also important to realize that no one else is responsible for how you feel, and you are not responsible for anyone else's feelings! Once you acknowledge this, you will find incredible freedom.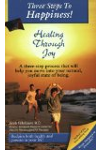 More About this Book
Three Steps to Happiness! Healing Through Joy
Happiness is our natural state of being. It is who we are. This happiness is obvious when you look at little children before they take on society's beliefs. Their natural state is to feel all of...
Continue Learning about Emotional Health