The marketplace has long been the center of much more than simply the exchange of goods. Shopping calls us out of our isolation and loneliness into a sense of celebration and community. It can refresh us, entertain us, take our minds off of our troubles, give us a new take on life. It can be as profound as a holiday ritual, or as humble as the simple satisfaction of completing a necessary task.

Shopping can be transformative. You may need time away from your family, and shopping gives you a change of scenery and time alone with your thoughts. You may feel lonely, so you agree to meet an old friend you haven't seen in a long time and reconnect as you stroll, chat, and window-shop. You may not be in the mood for the holidays. But getting out to the stores and experiencing the music, decorations, and smiling faces lifts you out of your gloom. You may find yourself wearing that blue sweater, a gift from your ex, a little too often, and shopping for a new one to replace it may be the perfect ritual you need to let the relationship go.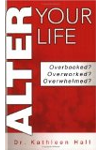 Continue Learning about Emotional Health
How well you handle stress, anger, relationships, work, family life-it all factors into your emotional health. Finding balance in life-as well as peace of mind-helps us cope with life's ups and downs. Take time to explore new ways ...
to find stress relief, and to release anxiety, and unhappiness. Counseling can help-as can a gratitude journal.
More