Whether you work for a company or your family, I bet that you live and die by the list. Doesn't matter whether you use Post-Its, a notebook, a wipe board, a PDA, or scraps of tissues - I want you to not only keep a to-do list, but also an I-hate list. That is, when something bothers you in your job, write it down. Now revisit the list in a week. If it's still bothering you, then maybe it's time to aggressively pursue a solution (or another job). My guess: Most of the time, those annoyances will be as fleeting as a one-hit wonder. And that should help you realize that it's the big picture, not the little one that counts. For times when that list grows too fast, well, it's always smart to keep your resume handy.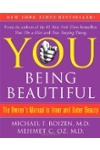 Continue Learning about Emotional Health
How well you handle stress, anger, relationships, work, family life-it all factors into your emotional health. Finding balance in life-as well as peace of mind-helps us cope with life's ups and downs. Take time to explore new ways ...
to find stress relief, and to release anxiety, and unhappiness. Counseling can help-as can a gratitude journal.
More