You may want to talk with your partner with bipolar disorder about all of your emotions. But please be careful. You don't want to burden your partner with all of these feelings at once. Hopefully, you will be able to work together on this in the future, but there are some things that your partner really doesn't need to know if they are currently ill.

Learn to use your judgment in this situation. Turn to others, including a therapist, if you feel the need to talk about your feelings. When you do talk with your partner about these emotions, you may be surprised to find that their emotions are quite different from your own. Theirs may include self-pity, shame, or embarrassment. It's also important that you both learn which of your partner's emotions are symptoms of bipolar disorder and which emotions are a response to having the illness. This is something you can do together in the future. For now, focus on your life and be honest, at least to yourself, about how you really feel.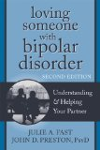 Continue Learning about Emotional Health
How well you handle stress, anger, relationships, work, family life-it all factors into your emotional health. Finding balance in life-as well as peace of mind-helps us cope with life's ups and downs. Take time to explore new ways ...
to find stress relief, and to release anxiety, and unhappiness. Counseling can help-as can a gratitude journal.
More