We interpret our current experiences through the lens of our past history and the unconscious parts of our psyche that we project outward onto (i.e., that we see in) others. Because of this projection, we may never really see and know the people in our lives, even those we love dearly. In addition, our constant misinterpreting of what they are saying and meaning creates a lot of confusion, suffering, and loss of relationships.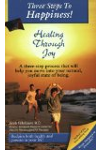 More About this Book
Three Steps to Happiness! Healing Through Joy
Happiness is our natural state of being. It is who we are. This happiness is obvious when you look at little children before they take on society's beliefs. Their natural state is to feel all of...
Continue Learning about Emotional Health