Any successful negotiation begins with being crystal clear about what you want. Many women shrink from the idea of negotiating because they think it just means being loud, aggressive, and pushy. In fact, the essence of negotiation is coming to an agreement that does not sacrifice what is essential to you while allowing the other party to do the same. It's actually something women are brilliantly suited for.
And remember, what's the worst that can happen? We are told no, and we're no worse off than we were before. Just look around and you'll see plenty of evidence that asking for what we want results not in the realization of our worst fears but in getting what we want.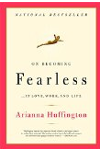 More About this Book
On Becoming Fearless...in Love, Work, and Life
Observing that her own teenage daughters were beginning to experience some of the same fears that had once burdened her--how attractive am I? do people like me? do I dare speak up?--Arianna...
Continue Learning about Emotional Health
How well you handle stress, anger, relationships, work, family life-it all factors into your emotional health. Finding balance in life-as well as peace of mind-helps us cope with life's ups and downs. Take time to explore new ways ...
to find stress relief, and to release anxiety, and unhappiness. Counseling can help-as can a gratitude journal.
More