Many of us avoid uncomfortable feelings or feel that certain feelings should not be felt. In addition, our mind often tries to protect us from uncomfortable feelings by coming up with distractions. In fact, many common pains, such as tendinitis and low back pain, are often simply the mind's attempt to help us avoid uncomfortable feelings by distracting us. Remarkably, because the process is not logical, people may unnecessarily suffer decades of disability because the mind is trying to protect them from an uncomfortable feeling that is really rather mild. The mind can do this by decreasing the blood flow to certain areas. It may camouflage what it is doing by beginning the pain after a trauma.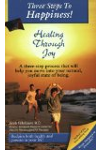 More About this Book
Three Steps to Happiness! Healing Through Joy
Happiness is our natural state of being. It is who we are. This happiness is obvious when you look at little children before they take on society's beliefs. Their natural state is to feel all of...
Continue Learning about Emotional Health