As you consider the attributes of the conscious and unconscious mind, you begin to see that all healing represents a movement from the invisible to the visible, from unconsciousness (unawareness) to consciousness (awareness). Mind-body-spirit medicine teaches you how to connect the invisible world of mind (thought, feeling, attitude, belief and imagination) and spirit (soulfulness, a sense of meaning and purpose, connection to a higher power) with body (the visible world of physical health and well-being). Understanding this connection is vital because, when it comes to health and healing, what you don't know (what is invisible to you) can hurt you. Bringing unconscious feelings into conscious awareness may be painful, but it allows healing to begin. In the light of conscious awareness, you can process your feelings in a way that heals rather than harms.

Understanding the mind-body-spirit connection provides you with powerful tools for processing the inevitable array of troubling thoughts, feelings and spiritual crises that accompany any serious or chronic illness. Though the task of conscious growth seems daunting, always remember that you have more power and control over your mind, body and spirit than you may be aware of. In fact, the awareness of what you are unaware of -- exactly how much power you have -- changes you and gives you greater power to heal.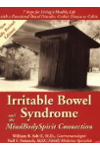 Continue Learning about Emotional Health
How well you handle stress, anger, relationships, work, family life-it all factors into your emotional health. Finding balance in life-as well as peace of mind-helps us cope with life's ups and downs. Take time to explore new ways ...
to find stress relief, and to release anxiety, and unhappiness. Counseling can help-as can a gratitude journal.
More