Take decisive action to stop your inner critic. Whenever you hear your inner voice spouting its "shoulds," "shouldn'ts" or judgments (negative or positive), take action to stop the thought. Each inner voice is unique. If yours is aggressive or hostile, you will want to stop it with some force. You can think or say aloud, "Stop!" or use more colorful language. My inner critic is manipulative, with a tone of helpfulness.

Drop the image of who you think you "should" be. This is a composite made up by various people, none of whom lives your unique life. This can be called the Perfection Myth, an ideal image that does not exist in reality. You spend most of your precious time and energy trying to achieve that image or feeling like a failure because you can't.

A helpful strategy when you hear the words "should" or "should not" in your mind is to ask the question, "Who made that up?" Realize that there are only a few laws of nature. Human beings made up everything else. Some beliefs are useful for living comfortably in society. Choose the ones you want to keep and let the rest go. Replace the old rules with supportive ones. The mind runs the programming you feed it. Feed it with care. Choose to surround yourself with the books, TV, movies, magazines, people and experiences that support and sustain your life and uplift your outlook.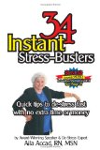 Continue Learning about Emotional Health
How well you handle stress, anger, relationships, work, family life-it all factors into your emotional health. Finding balance in life-as well as peace of mind-helps us cope with life's ups and downs. Take time to explore new ways ...
to find stress relief, and to release anxiety, and unhappiness. Counseling can help-as can a gratitude journal.
More