First, be sure you have finished feeling your feeling to a point where, from a centered place, it no longer feels good to feel it. Then it is healthy to move forward. Releasing blame allows us to see feelings for what they are -- our own feelings -- instead of wrapping them so tightly around others that you feel hurt, victimized, and powerless. Once you own the feeling as your own, then you are in control because you need nothing from the other person in order to move through it.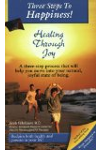 More About this Book
Three Steps to Happiness! Healing Through Joy
Happiness is our natural state of being. It is who we are. This happiness is obvious when you look at little children before they take on society's beliefs. Their natural state is to feel all of...
Continue Learning about Emotional Health
How well you handle stress, anger, relationships, work, family life-it all factors into your emotional health. Finding balance in life-as well as peace of mind-helps us cope with life's ups and downs. Take time to explore new ways ...
to find stress relief, and to release anxiety, and unhappiness. Counseling can help-as can a gratitude journal.
More