We are all prone to follow the direction of the group and most Americans follow a diet that is popular and unhealthy. Does following the crowd give you an excuse to resist change? It is a factor for some people. They want to fit in, and will be uncomfortable eating differently because they believe they will be rejected by their reference group. This perceived loss of status from being different can create a subconscious resistance, presenting another obstacle to change. This is an irrational response; following the crowd does not lead to enhanced status or self-respect. Quite the opposite; doing what you think is right will increase your self-esteem and emotional well-being. It is unfortunate that an unhealthy lifestyle and a disease-causing diet gains the psychological advantage as it certainly is more popular. But remember, you can lead the crowd; you can change things around for your social circle. By your example, you not only may save your own life, but you also may save someone else's life that you really care about.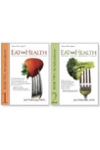 Continue Learning about Emotional Health
How well you handle stress, anger, relationships, work, family life-it all factors into your emotional health. Finding balance in life-as well as peace of mind-helps us cope with life's ups and downs. Take time to explore new ways ...
to find stress relief, and to release anxiety, and unhappiness. Counseling can help-as can a gratitude journal.
More