Many mental health disorders affect emotional health or may even be caused by poor emotional health. Anxiety disorders, eating disorders, stress disorders, and depression are some examples. Physical health problems can also be related to emotional health problems. Depression often accompanies physical illness and can affect the immune system.
Some physical illnesses can actually make you more emotional, making it harder for you to manage your emotions and making it less likely that you'll be able to act from your wise self. For example, people with diabetes or hypoglycemia might notice mood fluctuations depending on their blood sugar level; people with blood pressure problems might notice feelings of anxiety that are actually related to their physical health.

Having chronic pain can make managing your emotions difficult. Pain makes us grumpy; if you're experiencing pain regularly, you will be more emotionally reactive unless you pay mindful attention to the pain and practice skills to help you manage your emotions.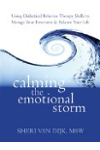 Continue Learning about Emotional Health