When your energy and attention is scattered in too many directions and you feel frantic, take a moment to take a deep breath, feel your feet on the ground and reestablish your inner control and balance.

Taking control of your own energy and ground are the first steps to realizing you do have control over your reactions and your choices in the situation. You may not have control over changes or additional responsibilities in your work assignment or the scheduling of your kids' ball games, yet you can control your choice of how to act, think or feel in the midst of pressures and changes.

Every apparent crisis also has within it the opportunity to learn or try something new. When you are in control of your inner calm, you can think more clearly, become aware of expanded options and make better choices.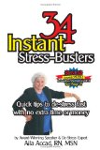 Being still allows you to calm down your left brain activity and activate the right brain to become more rational, creative and solution-focused, thereby finding and attaining your inner control. Yoga is a calming technique that can help you find and listen to your inner guide that disciplines and leads you to attaining inner control.
Learn to appreciate the similarities and differences with those you spend time with. Start to see the other person and their point of view as an opportunity to appreciate that person, their views and talents, instead of thinking it a threat. Let people feel comfortable in their own skin and watch how you can begin to experience inner control and not external control by others or circumstances.
Continue Learning about Emotional Health