Often stress comes from the perception that you are alone and unsupported. Changing that perception can change your stress in an instant.

Start by feeling the ground under your feet. Feel the support of the earth beneath you. Feel the support of the chair you're sitting in, the seat under your bottom and the back meeting your back. Take a breath and realize the support of the atmosphere in providing the oxygen you need to stay alive. Support is all around you. You just don't think about it this way.

Do you have a sense of spiritual support, a power greater than yourself that supports your existence? You may call that power the Source, Life Force, God, Allah, Great Spirit, Consciousness or some other name. Are you the kind of person who tries to do it all yourself? When you feel like you alone are carrying the world on your shoulders, those shoulders can begin to sag or tighten up with stiffness and pain. It's time to let go of over-responsibility.

"Let Go and Let God" is a motto in 12-step recovery programs. A friend of mine once quipped, "Life got a lot better once I resigned as CEO of the universe."

Who are the people supporting you in some way -- family, friends, community services or your employer? If you are not feeling the support, examine how willing you are to receive support. Being a gracious receiver is as admirable as being an effective giver. Find an opportunity today to receive support from another person with graciousness and appreciation.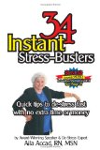 Continue Learning about Emotional Health
How well you handle stress, anger, relationships, work, family life-it all factors into your emotional health. Finding balance in life-as well as peace of mind-helps us cope with life's ups and downs. Take time to explore new ways ...
to find stress relief, and to release anxiety, and unhappiness. Counseling can help-as can a gratitude journal.
More