We continue to believe the myth of rugged individualism. The image of someone making it to the top of a summit or discovering the cure for cancer by themselves continues the myth that happiness can be experienced only when you achieve some goal alone.

The new paradigm of happiness and success rests in the concept that we cooperate and reach our goals synergistically. The community celebrates and many individuals are transformed when the goal is achieved. There are more lives committed to the goal when a community acts together than when a person pursues a solo mission. We are imprinted with images of individual superheroes - e.g., Rambo or characters played by Arnold Schwarzenegger - saving the world; too many of us seek this myth instead of sharing a dream or goal in community and realizing synergy. "Isolation kills; community heals."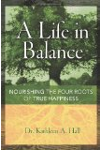 Continue Learning about Emotional Health
How well you handle stress, anger, relationships, work, family life-it all factors into your emotional health. Finding balance in life-as well as peace of mind-helps us cope with life's ups and downs. Take time to explore new ways ...
to find stress relief, and to release anxiety, and unhappiness. Counseling can help-as can a gratitude journal.
More