No matter where you are now in your life, that optimistic Divine being is cheering for you, loving you, guiding you, and sending you hope. You may not see the hope right now, but look around you.

We discover hope in the most humble places: the sun on your face, a breeze through your hair, your dog wagging her tail as she rubs against you, the smile of a person passing you in the mall, or a cool glass of water when you are thirsty. The well is never empty when you turn to the Divine. Don't ever give up on the Divine; she isn't giving up on you!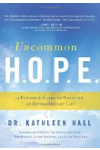 Continue Learning about Emotional Health
How well you handle stress, anger, relationships, work, family life-it all factors into your emotional health. Finding balance in life-as well as peace of mind-helps us cope with life's ups and downs. Take time to explore new ways ...
to find stress relief, and to release anxiety, and unhappiness. Counseling can help-as can a gratitude journal.
More