Our psyche and souls demand honesty at a deep level. This means that we have to feel whatever is there. If we do not feel a feeling, several things happen. First, you get stuck in that feeling until you do feel it. Because of this, instead of being conscious of your anger for an hour, you may find yourself unconsciously angry for decades. This anger can build up in big pools just waiting to be triggered. In addition, your psyche magnifies the feeling that you are denying to make it bigger and clearer to you. In trying to avoid your anger, sadness, and other feelings, you simply condemn yourself to being stuck in them.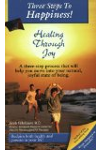 More About this Book
Three Steps to Happiness! Healing Through Joy
Happiness is our natural state of being. It is who we are. This happiness is obvious when you look at little children before they take on society's beliefs. Their natural state is to feel all of...
Continue Learning about Emotional Health
How well you handle stress, anger, relationships, work, family life-it all factors into your emotional health. Finding balance in life-as well as peace of mind-helps us cope with life's ups and downs. Take time to explore new ways ...
to find stress relief, and to release anxiety, and unhappiness. Counseling can help-as can a gratitude journal.
More