Emotional Freedom Technique (EFT), an acupressure technique, is especially helpful for phobias, fears, anxieties, traumas, anger, depression, resentment, guilt, low self-esteem, and many other uncomfortable emotions. People have also been successful in eliminating allergies, food cravings, physical symptoms, and harmful beliefs with this technique. The main ingredient for success in using EFT is the willingness to use it and the determination to see it through. Some issues are easier to clear than others and may need more treatments. For especially traumatic, complex, or deep-seated issues, it may be helpful to work with an EFT practitioner.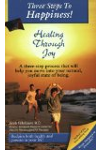 More About this Book
Three Steps to Happiness! Healing Through Joy
Happiness is our natural state of being. It is who we are. This happiness is obvious when you look at little children before they take on society's beliefs. Their natural state is to feel all of...
Continue Learning about Emotional Health
How well you handle stress, anger, relationships, work, family life-it all factors into your emotional health. Finding balance in life-as well as peace of mind-helps us cope with life's ups and downs. Take time to explore new ways ...
to find stress relief, and to release anxiety, and unhappiness. Counseling can help-as can a gratitude journal.
More