Life is suffering. From the time we take our first breath we meet physical challenges: sickness, pain, aging, accidents, and death.

There are also psychological issues that cause suffering in our lives: rejection, stress, grief, and depression to name a few. All of these conditions ebb and flow throughout our lives. The key to life is not to experience suffering as an obstacle, but as an opportunity. Every obstacle is an opportunity. You may not see the gifts at that particular moment, but with time the gifts can emerge from our suffering.

It may feel counterintuitive to accept suffering in order to live optimistically but it works. Accepting something dilutes its power to dominate our thoughts and our lives, making room for clarity and peace.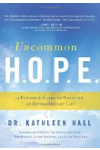 Continue Learning about Emotional Health
How well you handle stress, anger, relationships, work, family life-it all factors into your emotional health. Finding balance in life-as well as peace of mind-helps us cope with life's ups and downs. Take time to explore new ways ...
to find stress relief, and to release anxiety, and unhappiness. Counseling can help-as can a gratitude journal.
More