Fearless individualism- the quiet kind that doesn't need to be announced from the rooftops- is a requirement for leadership. When we are fearlessly who we are, we don't need external validation, just an opportunity to express ourselves, live fully, and serve the world. Too often we confuse speaking out with alpha status- the lead actor taking the main stage. But sometimes we can speak out clearly without power or position. This is a true alternate model of leadership, the kind that depends not on external power but on internal strength.
It's not necessary to move to New York or Washington to lead. What all of us can do is begin to exercise leadership in our most immediate circles: our families and our communities. Because change doesn't happen just from the top down, and because leadership is increasingly rare at the top.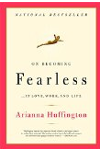 More About this Book
On Becoming Fearless...in Love, Work, and Life
Observing that her own teenage daughters were beginning to experience some of the same fears that had once burdened her--how attractive am I? do people like me? do I dare speak up?--Arianna...
Continue Learning about Emotional Health
How well you handle stress, anger, relationships, work, family life-it all factors into your emotional health. Finding balance in life-as well as peace of mind-helps us cope with life's ups and downs. Take time to explore new ways ...
to find stress relief, and to release anxiety, and unhappiness. Counseling can help-as can a gratitude journal.
More