If you study your emotional eating habits, my hunch is that you'll discover that emotional eating often happens when you're standing up.

When a strong emotion sends you racing toward the fridge, it's not like you're going to take the time to prepare a three-course gourmet meal, silver service and all. The scene probably looks more like "frantic clawing at the half-eaten, leftover piece of coffee cake in the fridge" or "shoveling gooey spoonfuls of Dulce de Leche straight out of the container using fingers."

There's a certain level of denial in this behavior. It's as if we're saying to ourselves, "If I cram the food down fast enough, maybe I won't notice how much I'm eating. And, best of all, I won't have to fully experience this uncomfortable feeling. I'll anesthetize myself with food to avoid the emotional discomfort."

Another possibility is that your emotional eating takes place in the car. Imagine that you've just had a gut-wrenching conversation with your spouse or boss and you're motoring home with snacks in tow. Here, Superman's got nothing on you. Able to deftly tear open packages with a single hand while steering with the other, you are Super-emotional-eater!

My point is that emotional eating happens in a hurry. We eat out of the fridge or pantry or over the sink or in the car when we're possessed by the "emotional-eating crazies." Neatness and etiquette fall by the wayside. Expediency is the priority.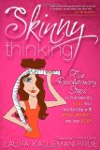 Continue Learning about Emotional Eating