You don't want to eat around a craving or exchange one energy drain for another. Doing so is called "eating transference," meaning that you go shopping, for example, instead of eating -- in essence, you binge at the mall. Or maybe you're the type to use excessive exercise as a way to avoid eating. The human body is smarter than you think. You'll manage to avoid eating what you really want but pay consequences later in other terms. Another example: if you want chocolate but have a salad, lean protein, tea, and berries because your mind tells you that's better, chances are later on you'll have the chocolate anyway, but likely devour it on a greater scale than if you had just chosen chocolate with tea the first time around.

In all of these scenarios, what you're really aching for is permission to just cry, scream, or do anything that will take you out of the current moment. The lesson here is clear: even though certain foods and actions can change your spirits or help you forget your stress, these are often Band-Aids at best and energy zappers at worst.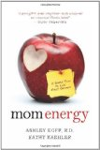 More About this Book
Mom Energy: A Simple Plan to Live Fully Charged
       From celebrated dietitian Ashley Koff and fitness trainer to the stars Kathy Kaehler comes Mom Energy, an exciting new way for moms to tap into their own natural and renewable sources of...
Continue Learning about Emotional Eating