We don't experience droughts or famine as early man did, but we do have high levels of chronic stress—whether it comes in the form of workload, relationship troubles, or to-do lists that are longer than Route 66. And our bodies respond the same way as our ancestors' bodies did—but the difference is that we have plenty of food at our disposal.
Chronic stress triggers an ancient response of calorie accumulation and fat storage, so we end up continually upgrading the size of our omentum (abdominal fat storage unit). Here's where the cycle of fat spins faster than Jeff Gordon's four wheels:
When you have chronic stress, your body increases its production of steroids and insulin, which…
Increases your appetite, which…
3. Increases the chance you'll engage in hedonistic eating in the form of high-calorie sweets and fats, which…
Makes you store more fat, especially in the omentum, which…
Pumps more fat and inflammatory chemicals into the liver, which…
Creates a resistance to insulin, which…
Makes your pancreas secrete more insulin to compensate, which…
Makes you hungrier than a muzzled wolf, which…
Continues the cycle of eating because you're stressed and being stressed because you're eating.
Interestingly, the more fat you store in your omentum, the more it reduces the effect of stress on your brain—it's your body's way of comforting you, assuring you that you'll be prepared during times of famine. It's why your omentum fat—the fat around your belly—isn't just an indicator of the size of your waist, but it's also your own personal gauge of the size of your stress.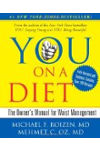 Continue Learning about Emotional Eating