The following exercises can help you dis-identify food with feelings:
Notice that a craving is on the scene and get yourself the heck out of the kitchen!
Ask yourself, "What am I feeling right now?" Wait for the answer.
When the answer comes, ask yourself, "What is noticing [the particular feeling you are feeling]?" Fill in the blank with whatever feeling is present. Let's say agitation is present. Ask yourself, "What is noticing agitation?" This question helps you dis-identify with the feeling.
Or say to yourself, "It's just (the particular feeling)." What a relief. It's not me. It couldn't be me because I'm over here, noticing it." It's such a huge relief to realize that the feeling is not you! Normally we merge with negative feelings and assume they're our feelings, but they belong to the ego, not to us -- not to who we really are. When we identify with the feeling, we have little power or objectivity. But when we notice a feeling, we're outside of it, aligned with the Wise Witness (our true self). In my experience, this kung fu cuts the power of the feeling in half immediately.
Drop your story about the feeling and simply allow it to be there. Notice the sensation. What does it feel like in your body? Allow the feeling to be there without any agenda for it to dissipate. Accepting it and allowing it to be present will enable it to eventually dissolve. Emotions don't come to stay; they come to leave. If you can learn to stop feeding them with more negative thoughts, they dissolve more quickly. The best internal posture is simply to be present and allow whatever is happening in the moment, without adding more negative thoughts to it. Ask yourself, "Can I just allow (the particular feeling) to be there?"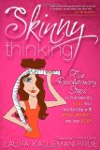 It is often difficult to identify actual physical hunger and emotional eating. To better identify eating from emotional eating, start maintaining a detailed food + mood/emotions + hunger journal. Meet with a registered dietitian to discuss your journal to start seeing a pattern and recognizing triggers that lead to emotional eating. Also come up with a plan to address emotions with non-food related activities. This will allow you to have a healthy relationship with food.
Continue Learning about Emotional Eating