The foods you eat can have a big impact on your emotions and your mood. In this video, registered dietician Frances Largeman-Roth explains how foods rich in magnesium can calm you, and why folate-rich foods that boost serotonin can improve your mood.
Eating healthy meals 3 times a day helps to regulate blood sugar and energy. Eating nutrient dense foods make you feel better. Vitamins and minerals all play a role in cell function, making us feel better. Complex carohydrates and fiber improve heart health and digestion. Eating high quality protein at each meal, including breakfast, helps to keep the muscles.

Following the my plate therory at each meal is the key: 1/2 the plate fruits and vegetables, 1/4 whole grains, 1/4 lean meat or protein and a glass of skim milk or low fat dairy. Whole foods, portion controlled, with no added salt or sugar is optimal.

You'll feel better about yourself and function the best you can.
Food is a very emotional thing for most people. I don't believe that it can, in fact, control emotions. But I do believe that removing anything chemical from your diet, as well as too much sugar, can remove possible mood triggers. Ideally, getting an edible education can empower people with the knowlege and skills to make healthier choices and, in the end, this encourages people to feel much better about themselves.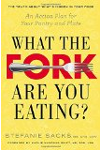 More About this Book
What the Fork Are You Eating?: An Action Plan for Your Pantry and Plate
It's labeled "natural," "grass-fed," or "free-roaming;" yet it might be anything but. It's time to find out what you're actually eating... When your groceries are labeled "low-fat," "sugar-free," and even "natural" and "antibiotic-free," it's easy to assume that you're making healthy choices. Yet even some of those seemingly wholesome offerings contain chemical preservatives, pesticides, and artificial flavors and coloring that negatively affect your health. In What the Fork Are You Eating?, a practical guide written by certified chef and nutritionist Stefanie Sacks, MS, CNS, CDN, we learn exactly what the most offensive ingredients in our food are and how we can remove (or at least minimize) them in our diets. Sacks gives us an aisle-by-aisle rundown of how to shop for healthier items and create simple, nutritious, and delicious meals, including fifty original recipes.  
Continue Learning about Emotional Eating