Emotional eating is typically a coping mechanism in response to emotions. When we eat to "fill a void" created by emotions rather than actual physical hunger--we often don't deal with the real situation. Overeating is common due to emotional eating. This can lead to a feeling of failure, depression, and low self-esteem. It is critical to identify triggers that lead to emotional eating and learn to cope with them in a more constructive manner. A registered dietitian can help you with this process.
Emotional eating or eating to feel better actually adds to the problem of low self-esteem by causing you to feel less attractive and worse about yourself. It's a vicious circle: Eating the cookies brings a fleeting, nice taste in your mouth and momentary relief from a negative feeling, but then you berate yourself for not having any willpower and not losing weight.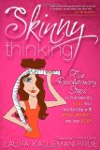 Continue Learning about Emotional Eating

It's easy to go for that bag of chips when we're stressed and not think much of it. But emotional eating is serious detriment to weight loss as well as your overall health and well-being. People tend to binge eat the most when the...
y're lonely or stressed. This can set the stage for eating disorders and food addiction because we start treating food like medicine. Luckily, there's help for emotional eaters, in the form of community support, stress management techniques and in some cases, therapy.
More