From an early age, many of us created emotional connections with sweet, salty, or fatty foods, using them to medicate ourselves when we were afraid, angry, or sad. Now, as adults, rather than uncovering the painful beliefs that underlie those emotions and using inquiry to dissolve them, or expressing what is appropriate to others in the moment, we stuff down our feelings with food. Eating might delay and blunt our reactions, but when we stuff our feelings with food instead of dealing with them, we may end up beating ourselves up or taking out our upset on those around us in passive-aggressive ways.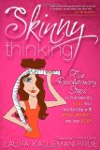 Continue Learning about Emotional Eating

It's easy to go for that bag of chips when we're stressed and not think much of it. But emotional eating is serious detriment to weight loss as well as your overall health and well-being. People tend to binge eat the most when the...
y're lonely or stressed. This can set the stage for eating disorders and food addiction because we start treating food like medicine. Luckily, there's help for emotional eaters, in the form of community support, stress management techniques and in some cases, therapy.
More