For years, you may have been innocently overeating because that's how you learned to comfort and take care of yourself when you were feeling bad. Dating back to childhood, overeating to get happy and stuff uncomfortable feelings may have been how you loved yourself.

Now you see that this way of caring for yourself doesn't serve you and creates suffering rather than happiness and comfort. An important part of this process is discovering what food means to you. What is the emotional connection you've created with food? Are you actually present when you're eating? It's easy to become hypnotized by the rhythmic motion of your fork or get lost in thoughts or emotions, paying little or no attention to how much you're putting in your tank. No wonder it's easy to gain weight! Eating without being present is like pumping gas blindfolded from a tank with no automatic shut-off. Neither has a good outcome. One brings a messy gas spillover, the other, a belly spillover.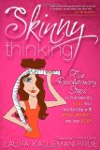 Continue Learning about Emotional Eating

It's easy to go for that bag of chips when we're stressed and not think much of it. But emotional eating is serious detriment to weight loss as well as your overall health and well-being. People tend to binge eat the most when the...
y're lonely or stressed. This can set the stage for eating disorders and food addiction because we start treating food like medicine. Luckily, there's help for emotional eaters, in the form of community support, stress management techniques and in some cases, therapy.
More