If you eat for pleasure, chances are that you see food as your friend, a treat, or a reward rather than just as nourishment. It's a very deeply embedded view in which food becomes larger than life, taking on a glorified and revered position in your life. You blow its importance out of proportion relative to what it can actually offer you. Because you see your relationship with pleasure food as more important to your happiness than it truly is, if you allow yourself to eat it after abstaining from it on a diet, you can easily go hog wild.

But it's important to notice that the pleasure from eating is fleeting! Soon after you put something in your mouth, the experience of eating is over. That's part of the whole truth that the ego's Child (pleasure-seeking impulses) doesn't want you to know. It can be liberating to realize that if you don't have two minutes with a particular food, it really won't impact your life.

When we habitually think about food in a way that creates excitement and pleasurable sensations, it makes food seem wonderfully fun and special, and this can leave us in an emotionally charged trance of sorts. Without realizing it, we slip into another state of consciousness, where seeing the whole truth about food is impossible. Once we realize how untrue and overblown our thinking is about it, we're well on our way to thinking about it differently. Glorifying food is a habit of believing that we need it to be happy and to feel good. But we don't. As we examine our beliefs about food and discover the truth, we realize that we never needed to get pleasure from food because life itself is pleasurable.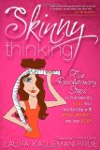 Continue Learning about Emotional Eating