An emergency information sheet (EIS) is a great timesaver. When minutes count, you don't want to be fumbling through the phone book or looking on the web for a phone number. Take the time now to fill in all the necessary phone numbers and the information the emergency medical services dispatcher will need to know to send an ambulance.

Post a copy of your emergency information sheet next to all the phones in the house and office and place a copy in your first aid kit. Make sure everyone at work and in the house, including children, babysitters and caregivers, are familiar with the numbers and how to call for help.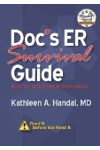 More About this Book
Doc's ER Survival Guide (DocHandal's Guides)
Few people get through life without at least one trip to the emergency room (ER), either as a patient or support person for a family member or friend. Doc's ER Survival Guide is designed to help...
Continue Learning about Survival and Emergency Preparedness