When you get to the ER, the nurses and doctors need to know your medical history and what medications you are taking in order to give you the best care. They don't know you so you must be your own advocate. Your personal physician will not be caring for you -- even if you get admitted to the hospital. You will be responsible for providing your health history and list of medications. You will be asked for this information over and over again, so you can save time and energy by collecting this information now and updating it as needed.

Be sure to write and pronounce the information clearly. Is your spelling correct, especially in regards to medication? Is your handwriting legible? If you write like a doctor, consider typing your medication list, using the information on the medication bottles as your guide. When you say you're on Clonidine, which is for high blood pressure, does it sound like you're saying Klonopin which is for seizures or Colchicine for gout?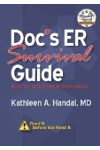 More About this Book
Doc's ER Survival Guide (DocHandal's Guides)
Few people get through life without at least one trip to the emergency room (ER), either as a patient or support person for a family member or friend. Doc's ER Survival Guide is designed to help...
Continue Learning about Survival and Emergency Preparedness