Frostbite and hypothermia are two types of cold-related emergencies.
Cold-related emergencies include frostbite and hypothermia. In some settings, snow blindness and trench foot may also occur. Appropriate clothing is the most important protection from cold-related injury. Layers provide insulation by trapping body heat; the best cold-weather clothing includes several lightweight layers made of materials that conserve body heat and prevent moisture from building up. A warm head covering, gloves or mittens, and warm socks inside boots or heavy shoes prevent heat loss from the head, hands, and feet.

Myth Buster––"Drinking alcohol will help you stay warm." False: Alcohol causes blood vessels to dilate. This increases blood flow to the surface of the skin and away from your body's core (brain and vital organs). Heat is then quickly radiated away from the body.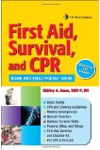 More About this Book
First Aid, Survival, and CPR: Home and Field Pocket Guide
Be prepared for first aid care and survival in any setting-at home, on the road, outdoors, while boating, hiking, or camping. From performing CPR on an adult, child, or infant to dealing with bleeding and shock, cuts and broken bones, heart attacks, emergency childbirth, poisoning, drowning, scuba diving mishaps, wilderness survival, and natural disasters such as tornadoes, wildfires, floods, and earthquakes. This portable, waterproof guide helps you quickly find the information you need to develop a plan of action for assessing and treating all kinds of first aid and survival emergencies. A special feature includes pet safety describing how to assemble a pet first aid kit, performing CPR on a dog and cat, and keeping pets safe during natural disasters. Keep a copy in your home, car, boat, camper, or backpack and be "ready" when emergencies occur.
Continue Learning about Survival and Emergency Preparedness