Keep your address and phone number affixed to each telephone. If a visitor needs to summon help, he will have this vital information.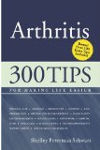 More About this Book
Arthritis
Arthritis: 300 Tips for Making Life Easier is a compendium of tips, techniques, and life-task shortcuts all learned from personal experience. Author Shelley Peterman Schwarz has lived with a chronic...
Continue Learning about Survival and Emergency Preparedness