You can prepare for a medical emergency by being educated about the hospital in your community or what you would do in the event you had an emergency that occurred either in your family or with a child. Many times, it's unplanned. Have a discussion with your primary care doctor or your pediatrician so that you're not thinking about what to do for the first time in an emergency.

Also, take a visit through your local hospital emergency room so you will understand what you might expect when you arrive. This is also valuable for children as it reduces the fear and anxiety that always accompanies an emergency.
Do these things now. Well, this week, anyway. Each of these moves will take you only between 5 seconds and 20 minutes to complete, and they could prevent the premature tapping of your life insurance by a spouse who might be spoiled by the riches.
Put the poison center number on the phone.
Call your police non-emergency number and check that 911 works in your area.
Teach your young child to dial 911—and when to dial it.
Right now (yes, now) read your health insurance policy and write down exactly what you need to do when going to the emergency department so you won't void your insurance. Being stuck with a $17,000 bill because your husband didn't make a phone call can dampen the euphoria of cheating death.
Parents should consider keeping a consent form on file with the local emergency department. If your child has a medical emergency while you are out of town or otherwise unreachable, a consent form will allow doctors to get right to work without having to deal with the red tape of trying to obtain a social worker or court approval before giving medical assistance. If you do not feel comfortable with such a blanket consent form, you may want to discuss options with your lawyer. Your kids' school should also have a copy of the form on file in the nurse's office.
Put all of your medications in same place and in the original bottles, so you or someone else can grab them in an instant. Make sure your family members or others who might be a help to you in an emergency know where your meds are. Give them to the EMTs when they arrive, and make sure they take them to the hospital.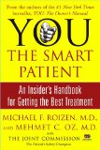 Continue Learning about Survival and Emergency Preparedness