Have a plan of action in case of emergency. Know who you can call if you suddenly need help. Plan escape routes and family meeting locations, program emergency numbers into your phones and determine contact alternatives such as text messaging or calling an out-of-state relative if local phone service is jammed. Have a ready source of clean drinking water handy and an emergency kit. You might even install a back-up generator. Anticipate your needs in a worse-case scenario, and prepare to meet those needs.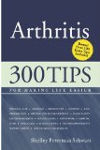 More About this Book
Arthritis
Arthritis: 300 Tips for Making Life Easier is a compendium of tips, techniques, and life-task shortcuts all learned from personal experience. Author Shelley Peterman Schwarz has lived with a chronic...
To be prepared for an emergency, carry an updated list of your medical problems, current medications and an emergency contact's phone number around with you, for example, in your wallet. Discuss right now with your loved ones what medical care you would want if you were unable to make decisions. Fill out a POLST (Physicians Orders for Life-Sustaining Treatment) form or an advance directive. Have health insurance, and optimize your health and lifestyle as this will increase your odds of survival and aid your recovery in the case of a medical or traumatic emergency.
Continue Learning about Survival and Emergency Preparedness