Anyone on an egg-free diet due to an egg allergy must avoid foods that contain any of these ingredients:
Albumin
Egg white
Egg yolk
Dried egg
Egg powder
Egg solids
Egg substitutes
Eggnog
Globulin
Livetin
Lysozyme (used in Europe)
Mayonnaise
Meringue
Ovalbumin
Ovomucin
Ovomucoid
Ovovitellin
Simplesse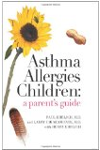 More About this Book
Asthma Allergies Children: A Parent's Guide
Asthma and allergies are at epidemic proportions. It doesn't have to be that way. Two experienced pediatric allergists tell everything a conscientious parent needs to know about these conditions,...
Continue Learning about Egg Allergy

Allergies to eggs and egg whites are more common in children than adults, causing rashes, hives, inflamed nasal passages, vomiting and even anaphylaxis, a life-threatening reaction. Many children outgrow this allergy. Over-the-cou...
nter antihistamine medications can help relieve mild allergy symptoms, but avoiding eggs and food containing egg and egg products is the only way to stay safe. Read all product ingredient labels, and be careful even of egg substitutes, which can contain egg whites.
More