Nausea and vomiting are among the most troubling complications of cancer. If nothing is done. The patient gradually loses a large amount of weight. This wasting away, called cachexia is a sign that the body has started to use up all of its energy reserves. After it burns all the energy stored in fat cells, it begins using the muscle cells. Rapid weight loss is one of the most serious signs of trouble for a cancer patient.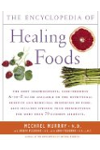 More About this Book
Encyclopedia of Healing Foods
From the bestselling authors of The Encyclopedia of Natural Medicine, the most comprehensive and practical guide available to the nutritional benefits and medicinal properties of virtually everything...
Continue Learning about Effects Of Cancer On The Body