In some cases, wheezing or other asthmatic symptoms may have a heart-related or cardiac component. If an underlying heart condition is suspected, the physician may recommend a test known as a cardiac ultrasound or echocardiogram. Usually performed by a heart specialist known as a cardiologist, this test is not invasive or painful and can be performed in less than half an hour. The test involves a vibrating device placed on the patient's chest that uses sound waves to create moving images of the heart and its chambers. The cardiologist can determine if the heart is functioning properly, or if abnormalities in its function are contributing to a patient's breathing symptoms.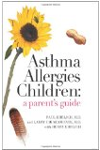 More About this Book
Asthma Allergies Children: A Parent's Guide
Asthma and allergies are at epidemic proportions. It doesn't have to be that way. Two experienced pediatric allergists tell everything a conscientious parent needs to know about these conditions,...
Continue Learning about Effect of Asthma on the Body