Eczema can be worse in the winter for many reasons. The air outside tends to be colder and drier, which can pull moisture from the skin, making it drier and itchier. Indoor heat also makes the air dry. In addition, winter fabrics, such as wool and some synthetic fabrics, can irritate skin, which also exacerbates eczema.
Harsh environmental conditions can make your eczema worse, especially dry conditions. During the winter, humidity levels are much lower than they are the rest of the year. As a result, your skin can dry out and your eczema is more likely to flare up. You may need to alter your skin regimen to control your symptoms during this time of year. Showering less often and using a good moisturizer can both be effective techniques.
Continue Learning about Eczema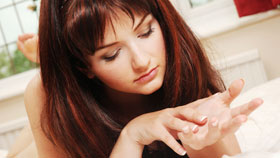 Eczema is a chronic allergic skin disorder that runs in families, resulting in red patches of skin that become extremely dry, itchy and irritated. Learn more about eczema from our experts.